SOFTNESS

Imitation feather down
that rivals
a the real thing
A combination of softness
and bulkiness
that replicates
the feeling of feather down
Producing a stuffing that feels good is about more than just softness. Air Flake's perfect level of bulkiness results in products that feel incredible.
Air Flake's structure is based on analysis of premium eider duck down. By curling and intricately weaving individual fibers, we've developed a unique structure that feels as if it encloses large quantities of the air itself.
This is what gives Air Flake its combination of softness and bulkiness, resulting in a feeling that is first-rate.
LIGHTNESS

Astoundingly full
yet lightweight
With our incredible air volume,
we're overturning
the conventional wisdom
that insulation made
from synthetic fibers is
heavy compared to natural down.
The thermal capability of insulation is measured by the volume of "dead air" trapped between its fibers. Synthetic fiber insulation has typically been regarded as heavy because a greater volume of fiber is required to match the thermal capability of natural down.
Air Flake is different. By analyzing the structure of eider duck down, we have created a material that efficiently traps dead air, meaning small volumes demonstrate no worse thermal capability than natural down.
Products using Air Flake can therefore be made extremely lightweight.

HIGH LOFT

Superlative
Bulkiness
After much research, our unique structure controls heat dissipation and demonstrate incredible thermal capability.
As a result of developing and making countless improvements to our uniquely material, we have succeeded in offering a high bulkiness.
The most important point for insulation is preventing heat radiation from inside to outside.
The higher it is, it creates thick air layer, and it keeps heat inside.
Research continues to offer even higher performance as insulation.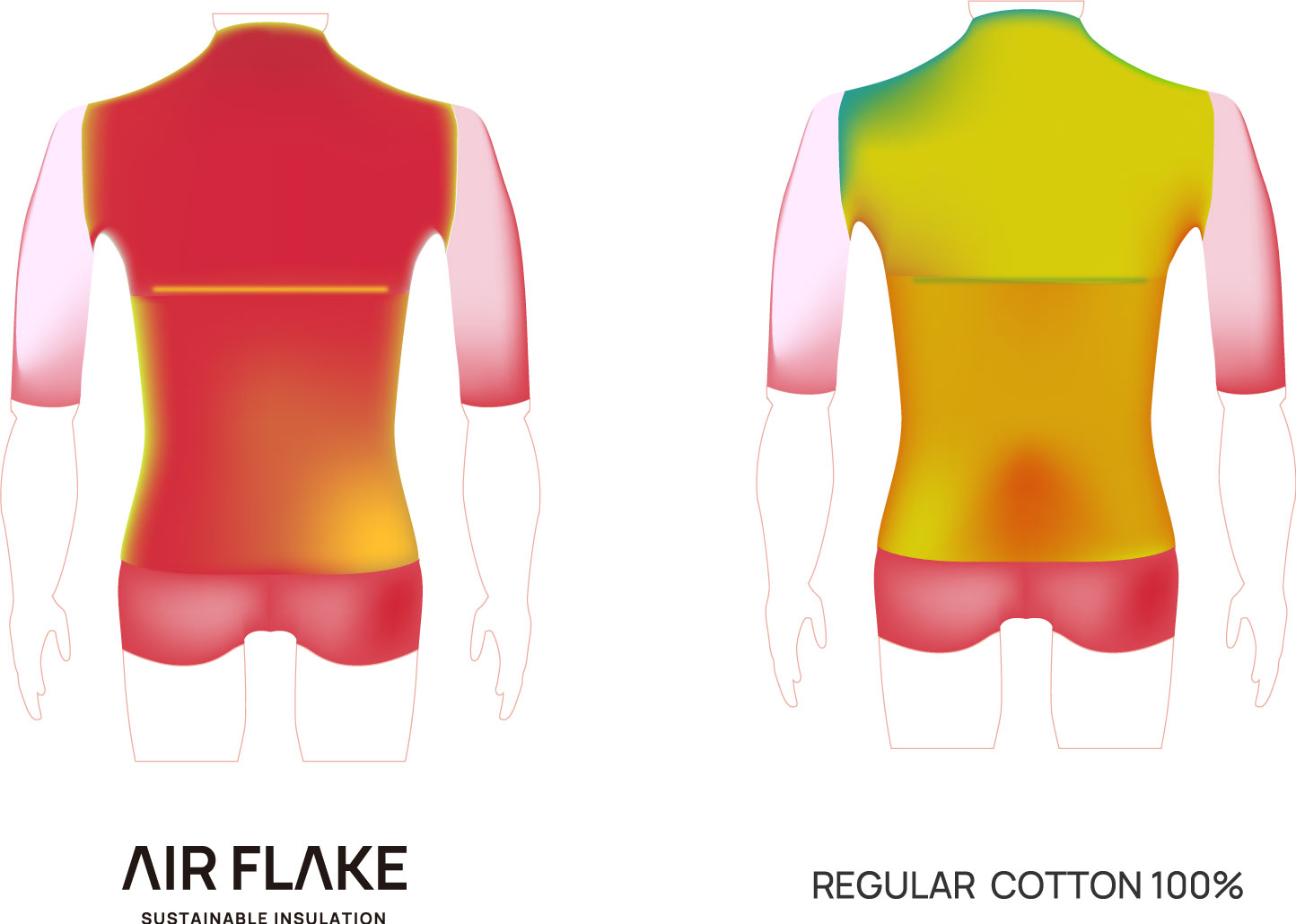 DURABLE

Flexible,
yet stable
Air Flake is equipped
with both the outstanding durability
and bulkiness needed for long-term use
in the harshest of conditions.
In addition to its thermal capability and flexibility, Air Flake's unique structure, based on analysis of eider duck down, also grants it unrivalled durability.
Our uniquely stretchable, tear bulkiness structure and flexible, pliable polyester work together to offer a wonderful suppleness to textile products.
Gentle to the touch and highly thermal even in severe conditions and verified to show almost no loss in volume after 30 washes, Air Flake shows amazing toughness.

QUICK DRYS

Quick drying;
essential for
true comfort
Air Flake's quick-draining materials
and unique structure
stays warm even when wet
and quickly disposes of moisture.
Air Flake uses a material that takes on little moisture. Even when wet, it repels water and retains its original form. Even when wet, its air layers among fibers are maintained, meaning it retains its thermal capabilities and quickly disposes of moisture.
For example, when sleeping, people are said to lose a cup of water (approximately 200ml) from sweat.
When mountain climbing, the body heat lost from sweat and rain can, at times, be deadly.
Air Flake's quick drying is therefore not just about being conveniently washable, but the result of serious thought about making the most suitable materials for actual use cases.
WASHABLE

Insulation you can
wash thoroughly
Air Flake can be easily washed at home.
No need to just wash the outside;
the insulation retains its
form even when thoroughly cleaned.
A 1kg mattress and duvet is said to contain over 10,000 mites*¹. Washing is the most effective way of removing both live mites and their dead bodies. Simply vacuuming and leaving to dry in the sun isn't enough.
Air Flake can easily be washed at home. Furthermore, thanks to its unique structure, it doesn't require you to apply any down proof (which fills holes in the fabric's grain, protecting against water getting inside the filling). In fact, allowing water to seep in through the outer fabric will ensure that the insulation inside is also fully cleaned.
*¹ May vary according to product specification, outer materials, and usage situation.
PACKABLE

Movingly
compact
Flexible and retains volume when packed,
bringing compactness
and comfort to any situation.
We want our product to be usable in all situations, whether wearing it, sleeping with it, or carrying it.
Light, yet warm. Flexible, yet durable. These comfort-oriented features have the additional benefit of making Air Flake products compact and easy to carry around. That's what allows us to make jackets and sleeping bags that can be folded to fit into a backpack.
Even in the coldest conditions, Air Flake always gives a moving performance.
ODORLESS

Total odorlessness as
he ultimate in comfort
Air Flake is always odorless.
In both body and mind,
we've made true comfort a reality. *²
Our sense of smell is said to be closest to the brain, and thus has the most direct connection to our emotions.
Unlike down, which retains its distinct odor even in product form, the animal-free Air Flake is completely odorless.
In addition to providing warmth and feel that rivals real down, this odorlessness is essential to Air Flake's pursuit of true comfort. An environment where you aren't constantly aware of the odor of real down offers comfort to the mind.
*²Subject to variation due to the specifications, materials used for side cloth, and usages.
ANIMAL RIGHTS RESPECT

Show your love
for the natural world
In moving towards a future
that places less burden
on animals,
choose the animal-free Air Flake.
Air Flake is not intended to make down obsolete.
Down is a wonderful product that everyone loves.
However, a single down jacket, for example, requires the feathers of around 30 ducks. The reality is that, as a limited resource, the supply of down cannot keep up with the large demand and consumption.
Air Flake, which rivals natural down in functionality, can offer superb comfort to people without requiring a supply of natural down, making it a new choice for insulation.
SUSTINABLE

Taking sustainability
from
an ideal
to the everyday
Made from 100% recycled materials.
Contributing to the realization
of a sustainable society.
We're proud to say that Air Flake is made from 100% recycled raw materials. Of course, Air Flake still boasts the same functionality as products made from brand new materials. Air Flake has the potential to contribute to a society looking for ways to recycle materials other than plastic bottles.
Made from 100% recycled materials and not dependent on natural down, Air Flake is a form of insulation that contributes to the creation of a sustainable society.